Why Polycentric Approaches?
Through practice-oriented field study and the exchange of good practices, PolyUrbanWaters is supporting pilot cities in Southeast Asia to develop their capacities for strategic urban planning that incorporates polycentric management of urban waters.
Polycentric approaches to urban water resource management are a response to the need for water-sensitive action in urban development.
The Need for Water-Sensitive Action in Urban Development
The PolyUrbanWaters project responds to an emerging discourse in Southeast Asia between academia, policy makers, the private sector and civil society, whereby:
Polycentric Approaches to Managing Urban Waters
The New Urban Agenda (Article 95) calls for the "implementation of integrated, polycentric and balanced territorial development policies and plans, encouraging cooperation and mutual support among different scales of cities and human settlements, strengthening the role of small and intermediate cities and towns and…providing access to sustainable, affordable, adequate, resilient and safe housing, infrastructure and services".
PolyUrbanWaters answers that call with our multi-year project "Polycentric approaches to the management of urban water resources in Southeast Asia: Localizing the Sustainable Development Goals of Agenda 2030 (SDGs) and the New Urban Agenda (NUA)."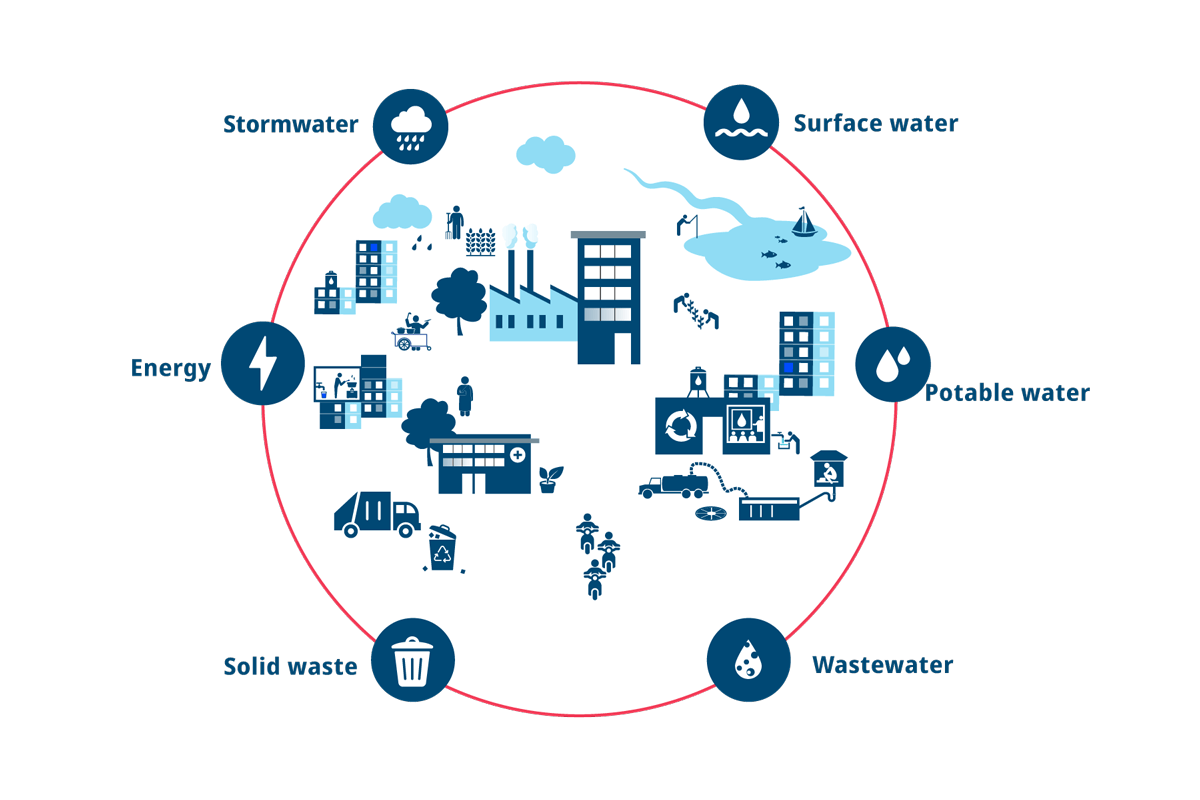 Polycentric approaches enable doable, sustainable action in water-sensitive urban development, as they:
reflect the various development dynamics of cities in their environmental, climatic, economic, social, cultural, financial and legal dimensions

bring together centralized and decentralized approaches to water management—drinking water supply, wastewater and stormwater, solid waste and water catchments—and embed them in multi-level, cross-sectoral urban development decision-making processes

are location-specific, cross-sectoral and flexible in their technical, management-relevant, socio-cultural and urban development dimensions

are incremental, following the UN principle of progressive implementation by supporting the development of effective supply and management structures over longer time horizons

are based on mobilizing local capacities for co-production between the public and private sectors, citizens, communities and civil society organizational structures

support cities in specifying their engagement with SDG-oriented strategic planning and implementation
Polycentric approaches offer a pathway to developing sustainable, livable and inclusive urban spaces and neighborhoods, protecting ecosystems, and adapting to climate change.